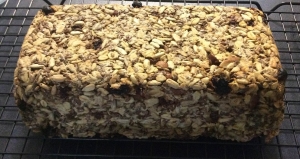 Vegan, wheat free, sugar free nutritious bread. Doesn't require any equipment other than a mixing bowl, bread tin and an oven. This is an adaptation of the My New Roots Life-changing Loaf of Bread (I use sultanas instead of maple syrup as the latter is too sweet – plus I don't use salt).
Ingredients:
1 ½ cups rolled oats
1 cup sunflower seeds
¼ cup flax seeds
4 tbsp psyllium husk
2 tbsp chia seeds
3 tbsp melted coconut oil
½ cup almonds (chopped)
1 ½ cups water
1 cup sultanas (optional)
Instructions:
Put all dry ingredients in a bowl and mix well so it is completely combined.
Mix together the oil and the water and then add to dry ingredients and stir well.
Line a bread tin with baking paper and transfer mix into the tine and smooth off the top.
Sit for at least 2 hours (preferably overnight).
Bake on 175C for 20 minutes.
Upturn bread upside down onto a wire rack (remove bread tin and baking paper) and bake for another 40 minutes until it is brown.
Let it cool completely before slicing.
It will stay fresh for 3-4 days in an air tight container on the bench. After that I put it in the freezer and use it for toast (particularly good with nutlex and vegemite).