Muesli Bars
(Vegan, processed sugar free, wheat free)
INGREDIENTS:
DRY
[You can substitute the dry ingredients for other things similar, except the psylium husk and the chia seeds, they are needed to hold it together).]
1 cup oats, roasted (15 min at 170C)
1/2 cup roasted almonds (unsalted)
1/2 cup cashews (unsalted)
2tbsp chia seeds
3 tbsp flax seeds
1/2 cup pumpkin seeds
1tbsp sesame seeds
2tbsp desiccated coconut
2tbsp hemp seeds
2 tbsp psyllium husk
1/2 cup quinoa flakes
1 cup sultanas
WET
1/2 jar smooth peanut butter (peanut only, no sugar added)
2tbsp coconut oil
1 cup dates
INSTRUCTIONS
1. Soak dates in hot water for about an hour until they soften. Then blend in a food processor until they are a smooth paste.
2. Combine wet ingredients (dates paste, peanut butter and coconut oil) in a pot over a low heat until the coconut is melted and it is all mixed together.
3. Then Mix all the dry ingredients together.
4. Add the wet ingredients to the dry and mix thoroughly.
5. Transfer the mix into a tray lined with baking paper, smooth off the top and cover
6. Refrigerate overnight, or 2-3 hours in the freezer.
7. Cut into bars and then store in the refrigerator or freezer.
3: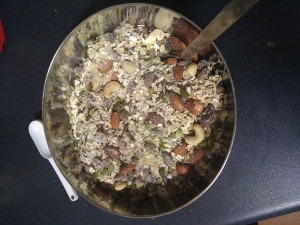 3: 
5: