Museli Bars
(Vegan, sugar free, wheat free)
INGREDIENTS:
DRY
1 cup oats, roasted (15 min at 170C)
1/2 cup roasted almonds (unsalted)
1/2 cup cashews (unsalted)
2tbsp chia seeds
3 tbsp flax seeds
1/2 cup pumpkin seeds
1tbsp sesame seeds
2tbsp desiccated coconut
2tbsp hemp seeds
2 tbsp psyllium husk
1/2 cup quinoa flakes
1 cup sultanas
WET
1/2 jar smooth peanut butter (peanut only, no sugar added)
2tbsp coconut oil
1 cup dates
INSTRUCTIONS
1. Mix all the dry ingredients together.
2. Combine wet ingredients and combine over a low heat until the coconut is melted and it creates a smooth paste.
3. Add the wet ingredients to the dry and mix thoroughly.
4. Transfer the mix into a tray lined with baking paper, smooth off the top and cover
5. Refrigerate overnight, or 2-3 hours in the freezer.
6. Cut into bars and then store in the refrigerator or freezer.
1: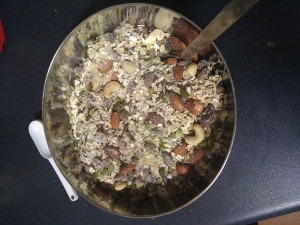 3: 
5: